Wasabi
Wasabi is a Cloud storage provider that is becoming popular day by day. We also use Wasabi to store many files. The best thing about it is, It is a pay-as-you-go service, unlike Google Drive and Dropbox. It allows you to store 1TB of data at $6/month, it is very affordable, and we have integration for Wasabi that you can use to keep backups of your sites created with ServerAvatar.
If you want to integrate Wasabi with ServerAvatar, follow the simple steps below.
Generate Access Key on Wasabi​
Step 1: Click on an Access Key on the left sidebar.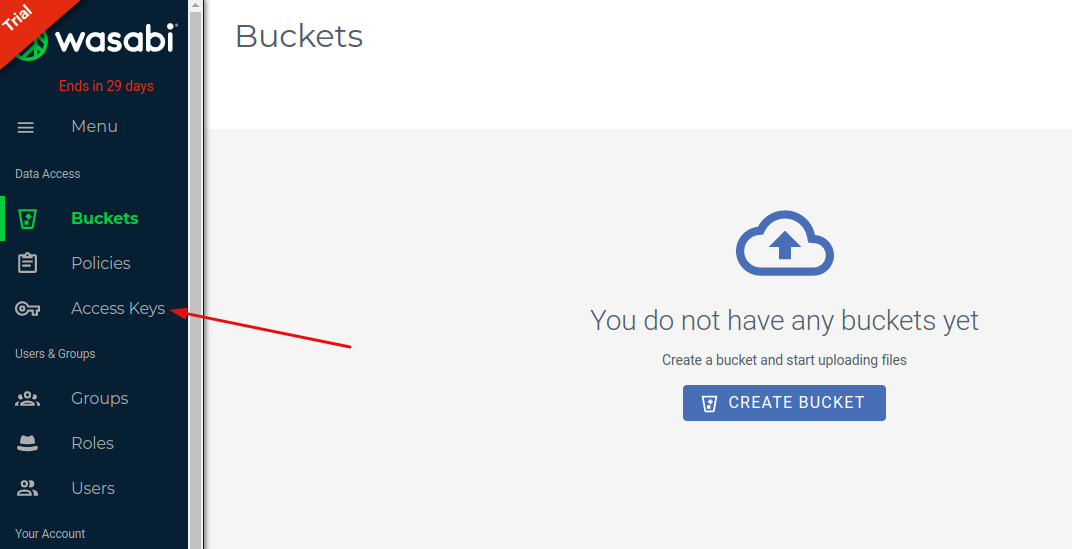 Step 2: Click on CREATE NEW ACCESS KEY button.

Step 3: After, You can choose Root user or Sub-User as you wish.

Step 4: Next, Click on DOWNLOAD CSV or COPY KEYS TO CLIPBOARD and save them.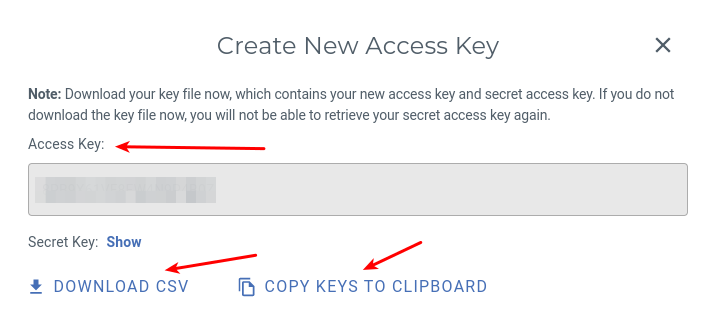 Create Bucket On Wasabi​
Step 1: Click on a Buckets on the left sidebar and click on a CREATE BUCKET button.

Step 2: Enter Bucket Name and Region, then click on CREATE BUCKET button. If you set any properties, click on the NEXT button.
Wasabi Provider Set UP on ServerAvatar​
Step 1: Click on an Integration on the left sidebar, then click on Cloud Storage.
Step 2: Click on the Link Wasabi button.
Step 3: Enter Name, Access Key, Access Secret Key, Bucket Name and Region Name, then click on the Save button.