Create Server in Digitalocean
Digitalocean is one of the most popular cloud platform right now. It offers on-demand cloud computing for various use cases as well as some managed solutions. We can deploy any PHP based applications on Digitalocean Droplets. Droplets are the servers or cloud computing instances in Digitalocean. If you want to learn everything about droplet management in Digitalocean in-depth, We recommend you to read our Digitalocean guide.
To deploy any application on Digitalocean, We first need a Droplet. So, we will first create a droplet and perform the initial set up.
Step 1: Go to the Create Droplets page.
Log in to your Digitalocean account and click on the Create button given on the top-right corner of the page. From the drop down menu, click on the Droplets option to see a droplet creation form.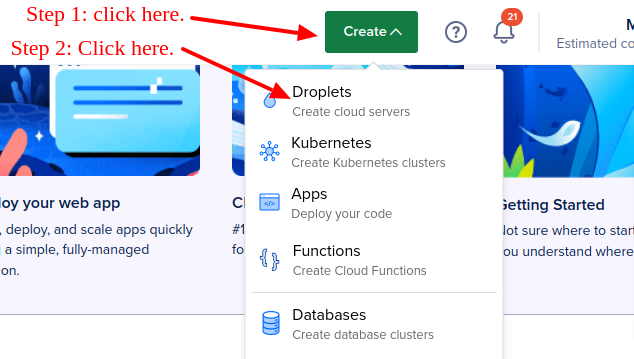 Step 2: Choose Region
On the Droplet creation page, You will see lots of sections to select lots of things. We will go step by step.
The first thing you have to do is select the region for your droplet. Digitalocean provides lots of options when it comes to selecting the location. The general rule is to select the region that is closest to your audience. It means that for majority of your audience, Your sites will load faster due to lower latency.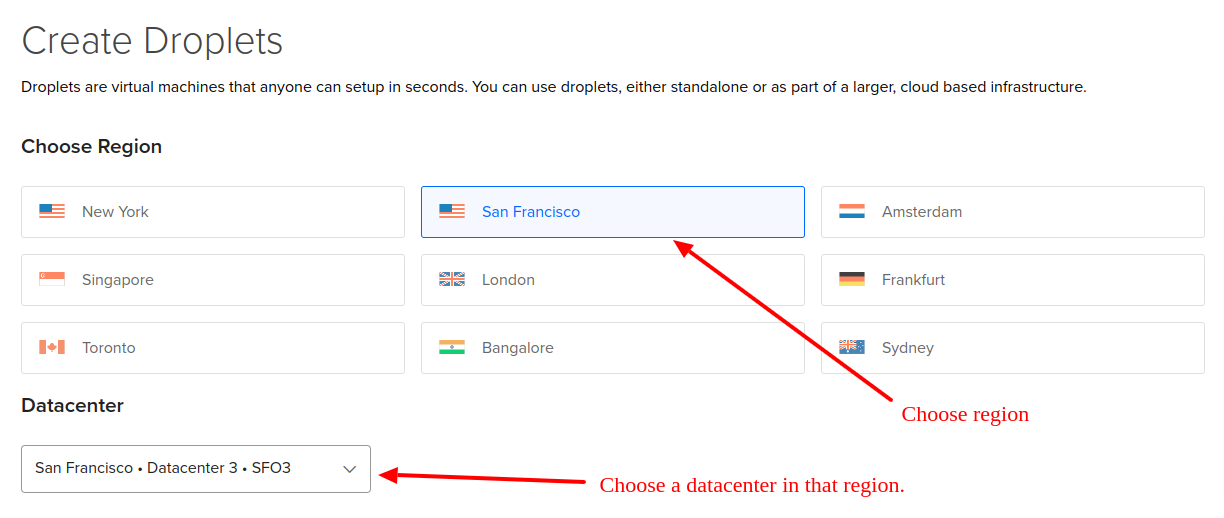 Step 3: Choose an Image or an OS
In this step, you have to select the operating system for your droplet. We recommend you to use Ubuntu 20.04 LTS x64 or Ubuntu 22.04 LTS x64. Ubuntu is easy to configure and manage. If you are using ServerAvatar to manage your droplets, These operating systems are requirement.

Step 4: Choose the size of the Droplet
Here you have to choose the size of your Droplet. As we mentioned above, Digitalocean provides many different types of droplets. Select the one that fits best for your project.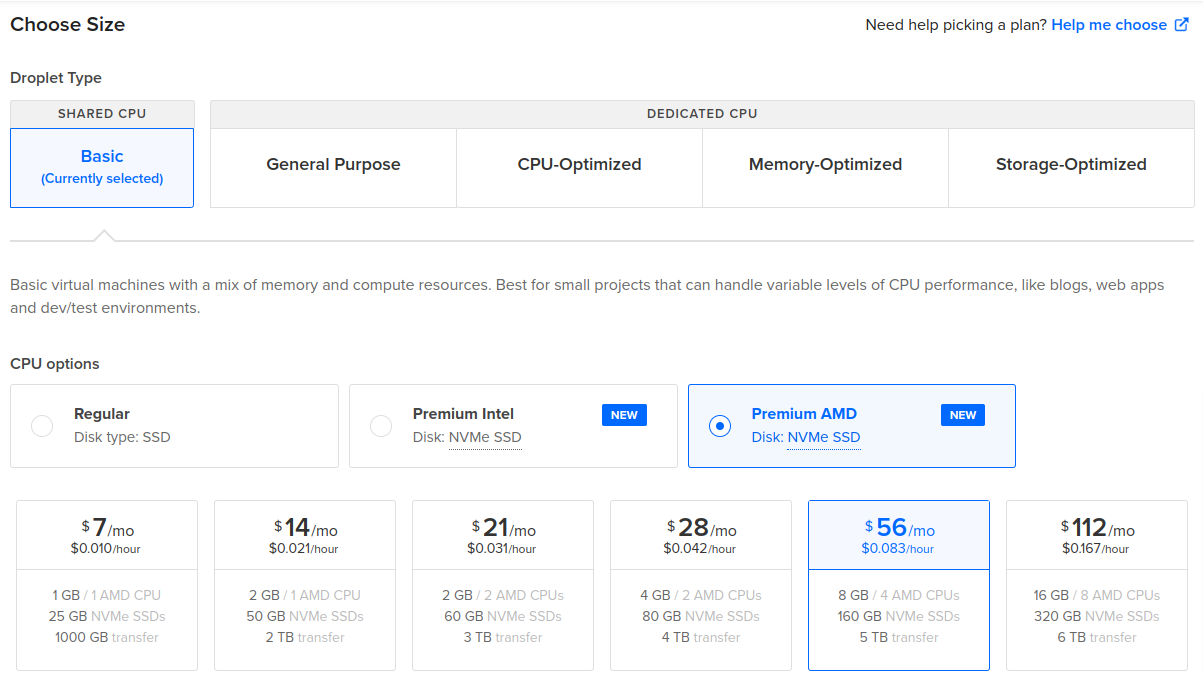 If your site is brand new and does not have much traffic, start with a small plan. Once the project starts getting traction, you can upgrade the plan to handle more visitors on the site.
Step 5: Choose Authentication Method
Now you have to select the authentication method. There are two types of authentication methods. They are:
Authentication via SSH Keys
Authentication via Password
If you are using SSH keys for authentication, It is the best option. If you do not know what is SSH keys, You can go with the password method. Make sure to set the strong password for your root user, which is the most powerful user with all the privileges on Linux OS.

Step 6: Selecting Additional Options
There are three additional options you can choose. They are optional but important in different use cases. The additional options are:
Monitoring: It is a free feature by Digitalocean. It allows you to see additional monitoring data for your server.
Backups: We recommend you to enable full server backups if you are going to deploy in production environment. The cost of the backups depends on the size of the droplet.
Managed Database: You do not need a Managed database if you are using ServerAvatar to manage sites on a droplet. A managed database is a pre-configured MySQL Droplet.
Step 7: Finalise Details
In the last step of this process, We have to enter the name of the droplet, number of droplets you want to create, Define any tags, and select the project. Enter all the details and click on the Create Droplet button to create a droplet.

In a few minutes, You will have the Droplet up and running. Now, We have to perform the initial configuration on the Droplet to host PHP based frameworks and software.
Initial Server Configuration
Right now, the Droplet just has an operating system. To host a PHP based site on a droplet, We have to install and configure Apache, PHP, MySQL and other services on the droplet. There are two ways to do it.
Manual Server Configuration: In this case, You have to manually install and configure services on the server using command-line interface. Basically, writing commands, correct commands. You also have to deal with more configuration files and commands to install SSL and add new site on the droplet. If you know what you are doing, You can manually configure your droplet.
Automatic Server Configuration: If you do not want to deal with terminal, commands and configuration files, Use Automatic server configuration with ServerAvatar. This method is fast, it only takes 6-8 minutes for full server configuration. After the droplet is ready to host sites, You also get easy-to-use interface to click and perform tasks on your droplet as well as manage more droplets or servers.
Automatic Server Configuration with ServerAvatar
If you have never used ServerAvatar before, The first month of management is totally free. No CC info required.
It is very easy to install ServerAvatar and configure the optimised LAMP(Apache), LEMP(Nginx) or OLS stack on your droplet. Just connect with your droplet with SSH as a "root" user and execute the following commands to start server inspection.
# wget https://srvr.so/install
# chmod +x install
# ./install

You will get an option to select the web browser for your droplet. You can select from Apache, Nginx or OpenLiteSpeed.
Once the installation is started, You will see a link in the terminal to claim server panel for your server in ServerAvatar. Follow the link to see the installation status in detail and the server panel to manage your sites on the droplet.
Auto-Install WordPress with ServerAvatar
Step 1: Create a PHP application
Access the Application tab on your server panel and click the Create button.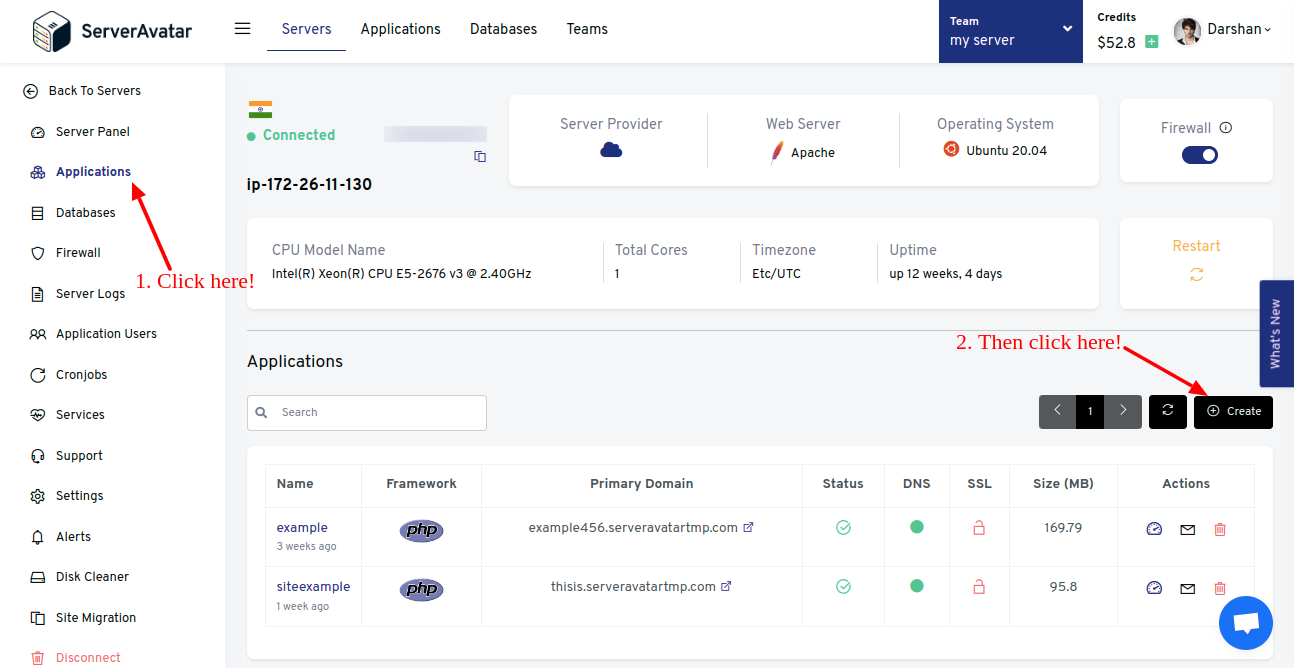 Fill up the required details and click the Create Application button.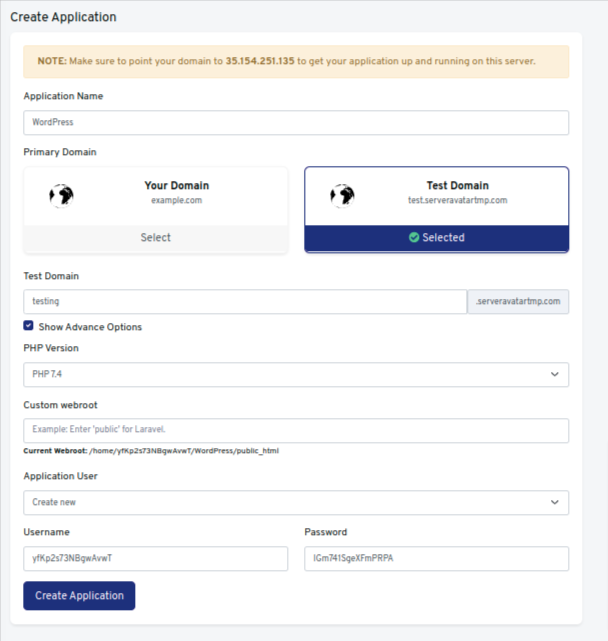 Note That:
If you want to host WordPress CMS on your domain, then make sure to point your domain to the current IP address of your server, and for that:
Log in to your hosting provider site, where you buy your domain. You can check your domain information with one click.

Access DNS Manager to edit your DNS records(contact the support team if you don't find them)

Change the IP address of A Record of your website to the current server's IP address.
Step 2: Auto-install WordPress Application
On your application panel, click the Auto Deploy tab from the sidebar.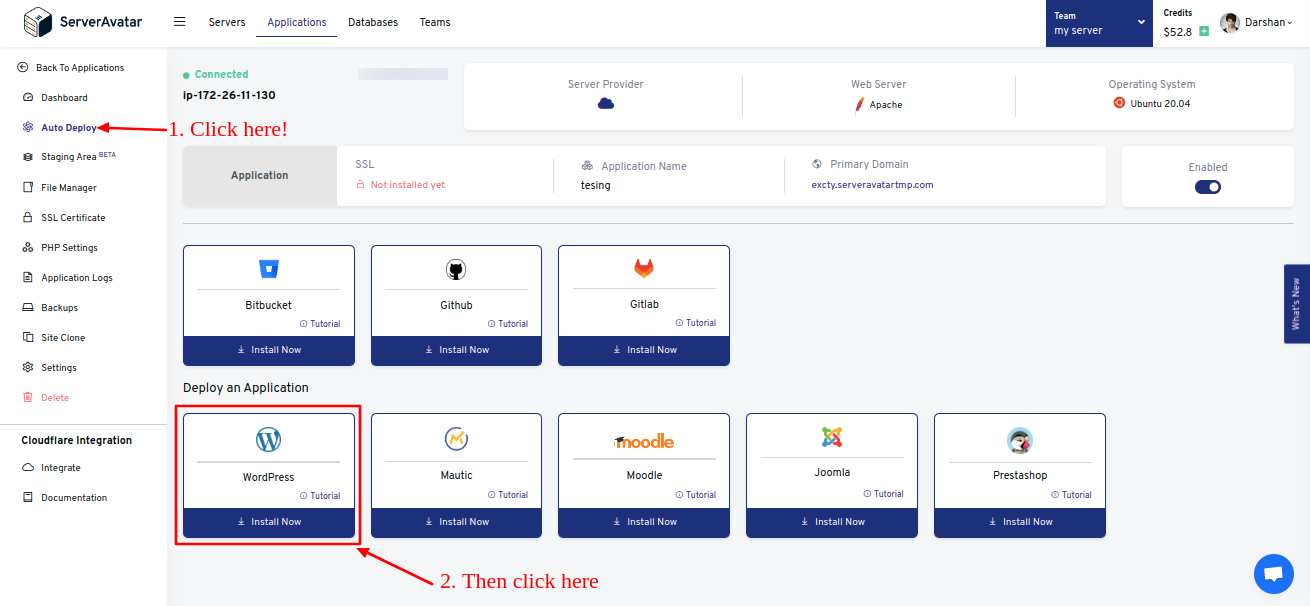 Now click on the WordPress Install Now card, as seen in the above image.
It asks to enter WordPress details on the form. It includes-
WordPress Title: Title of your WordPress
Username: WordPress admin username
Email: Your Email address. It's an optional field. You can also set it after installing WordPress
Password: WordPress admin password
Database server: Choose a server in which you want your WordPress database
Database Name: Enter the name of the WordPress database.
Once you fill up all the information, click the Install Now button, and that's it. ServerAvatar will install WordPress on your domain/ServerAvatar domain within a minute.
You can access the login page on the URL:example.com/wp-admin.