WordPress is the most popular and safe content management system. Data shows that one of every six WordPress sites is in danger of attack. And 8% of total WordPress sites are hacked due to weak passwords. Also, security issues such as outdated plugins, themes, and core software can be reasons to expose security holes in websites.
If you are a WordPress user, site security is at the top of your priority list.
So what should we do to protect a website? Following are the significant points you need to follow to secure your site from attackers.
Use safe plugins and themes
Responsible login procedure
Update to the latest PHP version
Use secure WordPress hosting
Enable SSL/HTTPS
Change your database table prefix
Let's talk about some WordPress plugins and their features that defend against brute force and cyber attacks. If you are a WordPress user, then site security is at the top most on your priority list.
1. Wordfence Security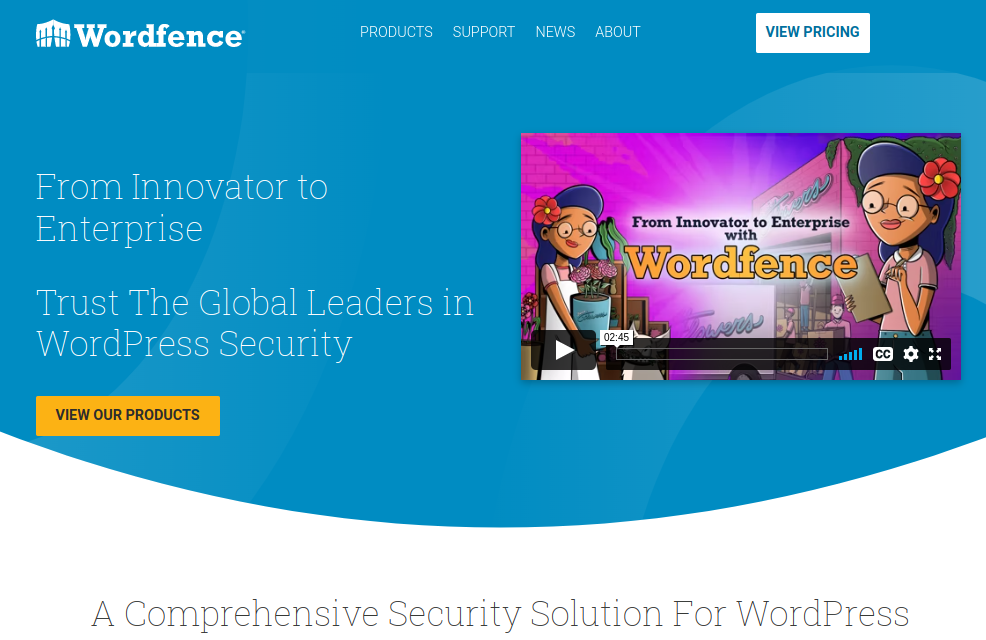 Wordfence Security is a comprehensive security solution for WordPress. It provides the most popular WordPress firewall and security scanner to protect your site from malicious attacks. Also, provide robust 2FA for you and users to neutralize the risks associated with compromised passwords.
The plugin's threats defense feed continuously scans new threats by releasing new firewall rules and malware signatures. As a result, it protects over 4 million websites worldwide from attackers targeting WordPress.
In case your site has some security problem, the plugin directly sends an alert via email. When you install the plugin on WordPress, you can configure multiple emails for alerts. Including that, it scans all your posts, files, and comments for URLs in google's safe browsing list, which makes it unique among other plugins.
Wordfence Dashboard

The plugin dashboard provides valuable insights into the current state of our site security. You will see helpful reports as well as essential status updates.
As shown in the above dashboard image, each feature contains a status that reminds you what enables, disables, or needs attention.
The Notifications section will highlight actions you need to take. With that, you'll also find the Global Options section that shows you the options and features for each section of plugin. The section includes Alerts, Automatic Updates, and managing your site's premium license.
Wordfence Free Features
Firewall
A firewall identifies and blocks malicious traffic to your site and protects against commonly exploited vulnerabilities.
Not only that, but it protects against attempting to upload malicious files, brute-force login attempts, and other suspicious activities. In addition to that, it doesn't break encryption and does not leak any site data.
Login Security
The plugin provides multiple login security features, including two-factor authentication(2FA) to prevent your site from directly accessing the admin dashboard, login CAPTCHA to stop the bot from logging in, and XML-RPC restriction that allows you to block unknown or unmatched entities.
Security Scanner
The plugin's free security scanner features alert you when your site runs with outdated plugins, themes, or core files.
It also compares your files or themes with the clear version in the WordPress.org repository. If you find any changes in your files, you can change them back to the original version. The Plugin scanner scans files for bad URLs, SEO spam, harmful redirects, and code injections.
Centralized management
The free version of the plugin allows you to use Wordfence Central, which helps you manage the security of multiple sites in one place.
Other additional tools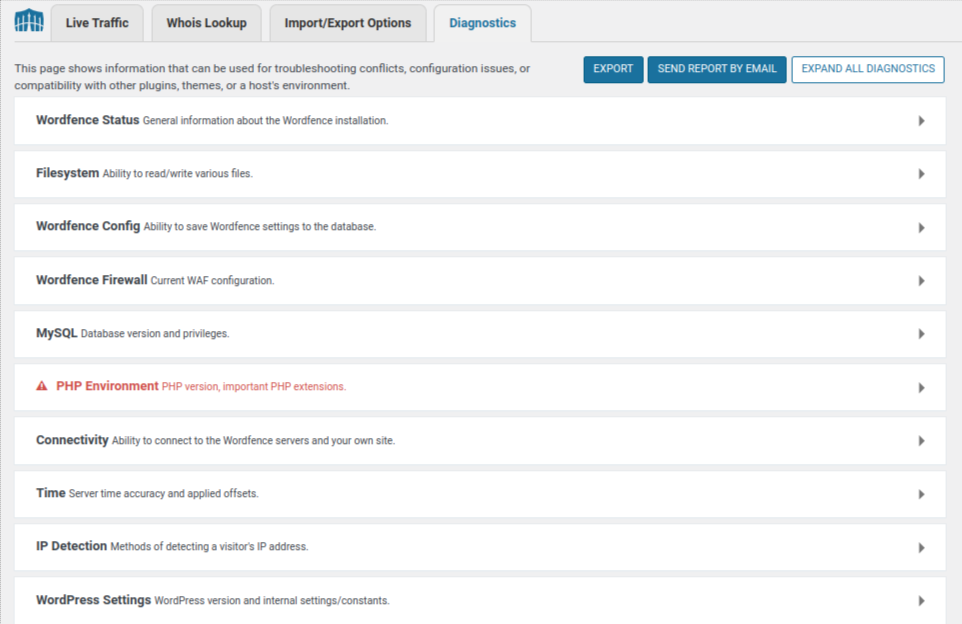 The plugin free logs check all the activities on your site so you can review them and block evil things like attacks by IP address, IP Range, Hostname, etc.
Wordfence Premium Features
Real-time site protection
No doubt, attackers come with updated thereat every next time; the plugin helps you protect your site against the new or updated threats that are unique on the market.
What the plugin actually does is it can match attributes with malware signature attributes and identifier threats that are newer on the market.
Real-time IP blocklist
The premium version of plugin has an automatic IP blocking system that helps you detect the malicious IP address and immediately block it to keep your site safe and secure. Plugin free users also use this feature, but Automatic IP blocking is not enabled.
Country blocking
Country blocking is a premium feature that allows you to block users country-wise from accessing the site or just your site's login page.
Premium support
Plugin premium users provide Ticket-based premium support, so if you have issues regarding security, you can expect to solve them within 24 business hours. You can quickly find the help you need from here.
Premium license discount
Premium subscription discount based on the number of active license keys in your account and the number of license keys you purchase.
2. All In One WP Security & Firewall
The All-in-One WordPress Security plugin is an excellent option for those who are using WordPress for their business but are not good at technical knowledge. The plugin is free and lightweight so that you can use its every feature, including upcoming features, for free.
There are a lot of security features in the plugin. It uses a grade-point system to measure your site security based on your enabled features. The plus point is the plugin gives you a message or alert at a time when you enable the feature.
The plugin firewall features categories into "basic," "intermediate," and "advanced," so you can apply rules accordingly in a way that shows how likely they are to cause problems on your website. For example, enabling new firewall rules may break down another plugin for some reason
All in One Security Dashboard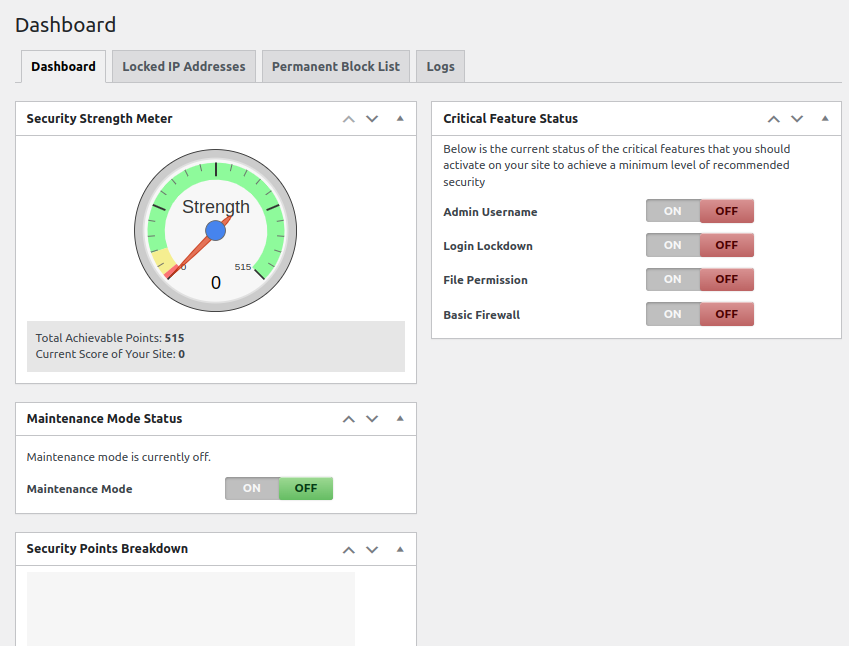 On the dashboard, you'll see the easy-to-understand Security Strength Meter, Critical Feature status, Maintenance Mode Status, and many other valuable tabs.
Security Strength Meter depends on how many features you enable to protect your site's security without conflict with other plugins. The Critical Features tab displays the features you should activate on your site to achieve a minimum recommended security level.
Including the dashboard, you can see another tab that lists all blocked IP addresses or users due to specific features.
The Basic plugin features won't cause your site to break, whereas intermediate and Advanced features might cause certain functionality of your site.
All in One Security Features
User Account Security
User Account security taking action of your WordPress username. Like, if it detects the default username "Admin," the plugin tells you to change the username of your choice.
In addition, it also detects whether the login username and display name are the same or not because having the same terms makes it easier for hackers to attack.
User Login Security
Login Security protects your site against various login attacks. You can set an automatic lockout system to block IP addresses that log in with an invalid username.
The plugin also allowed you to add Google reCAPTCHA or a simple math captcha to your WordPress login and forgot password form. As an administrator, you can view a list of blocked or lockout users in a simple, readable table.
User Registration Security
User Registration Security is crucial because you will face SPAM or bogus registration.
The plugin helps you manually approve user registration and add a captcha to your registration form to reduce attempts by robots.
Firewall Functionality
The plugin allows you to add various firewall protection rules to your site via the .htaccess file. The plugin can do it by inserting a unique code in your .htaccess file. And due to this, it might be possible that some features may break some functionality for specific plugins.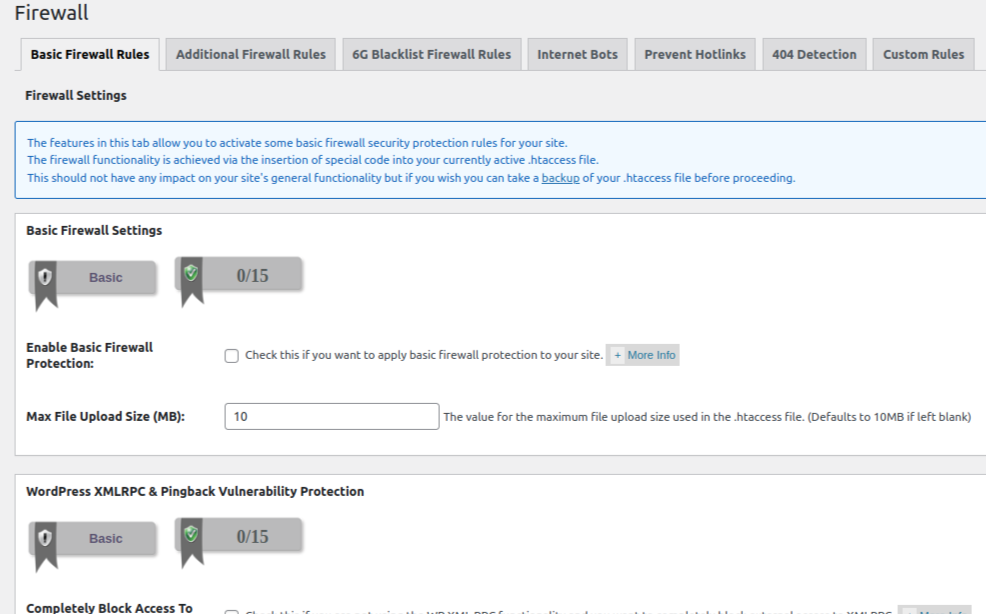 The plugin provides various firewall features, including 6G blacklist firewall rules, and even adds custom firewall rules.
File System Security
When you install WordPress, your file system has already secured file permission. It is possible that installing any plugin might change your file permission, and due to this, your site is vulnerable to attacks. That's why the plugin takes care of your site file system.
It scans the critical WP folder and files and will highlight any insecure permissions.
Database Security
Your WordPress database is the most critical asset of your site because it contains a lot of site information. Database security features help you change the db_prefix name from "wp_" to something else, which will be difficult for hackers to guess. The plugin also enables you to take database backup with one click.
3. iThemes Security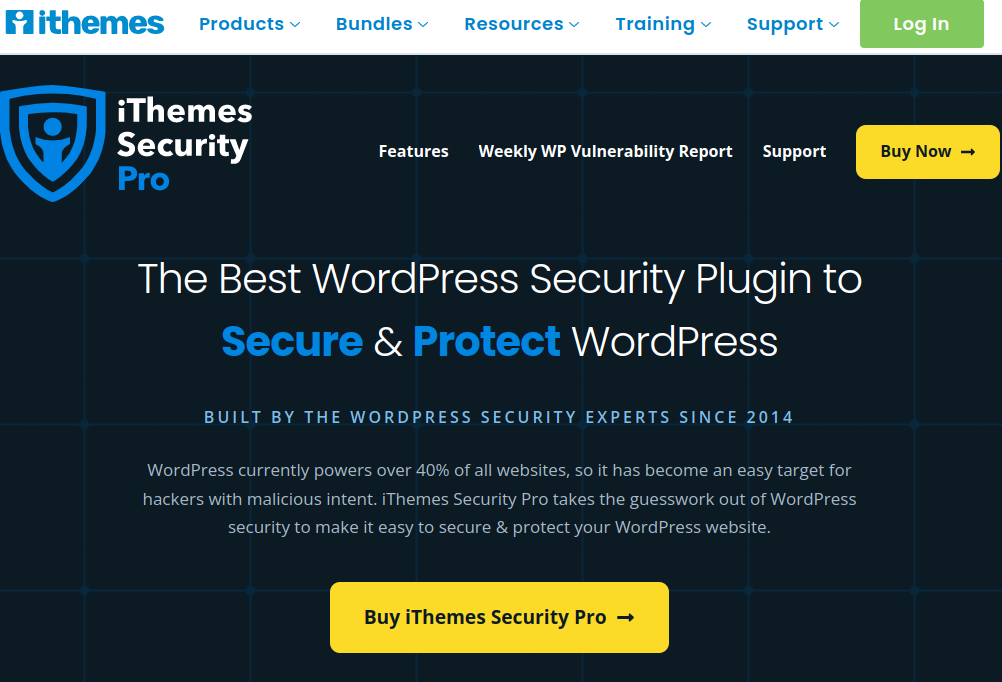 iTheme Security is another best security plugin to secure and protect your WordPress site. The plugin is easy to use, even for non-technical users who use WordPress for business.
Using the iTheme Security plugin, you can quickly stop malicious attacks and prevent your site from hackers. It also makes regular backups of your site database so you can quickly get back online in the event of a security breach.
Above all, the plugin support team is ready for you at any time to solve problematic queries. There is also a pro version of the plugin available. But it's a bit different. You can use pro features based on the number of sites you have. The pro version takes the guesswork out of WordPress security to make it easy to protect your site.
iTheme Dashboard
The iTheme Security dashboard gives all you need to want for a site report in a straightforward way. The dashboard includes total Lockouts and Bans overview in a Pie Chart format, number of time Site Scans, total number of Brute Force Attacks, instant Database backups, Banned Users, and more.
You can also edit your dashboard cards according to your needs by checking the Edit Cards tab at the top of the dashboard.
iTheme Free Features
Login Security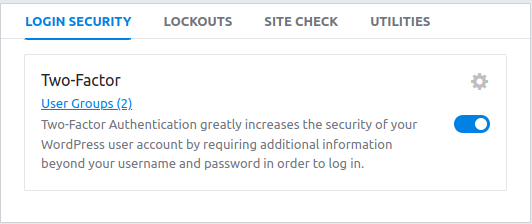 The plugin allows you to protect your site using Two Factor Authentication.
2FA increases the security of your WordPress user account by requiring additional information beyond your username and password to log in.
Multiple Lockouts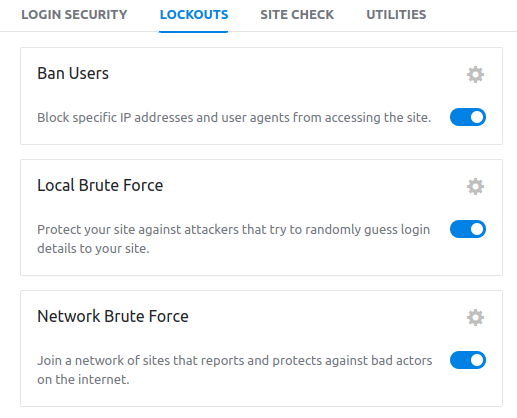 The lockout feature allows you to Ban Users by their IP address and protects your site against Local Brute Force and Network Brute Force by enabling the toggle button.
File System Security
Hackers may access your file system and edit your site code. And that's why the plugin enables File Detection Security to detect malicious activity from your website log.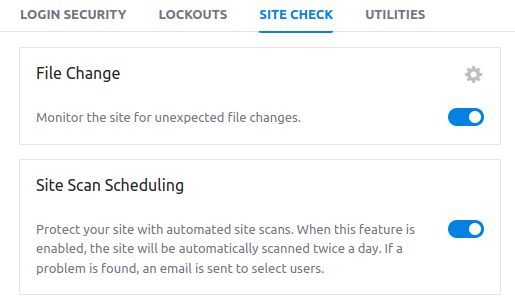 The plugin also Scans your Site core files, other plugins, and themes twice a day. An email is sent to select users if any problem is found during Site Scanning.
Website Security Utilities
The primary way to secure your site is to Enforce an SSL to your site. It protects data and verifies ownership of the site. You can enable it by Checking the utility tab like in the image below.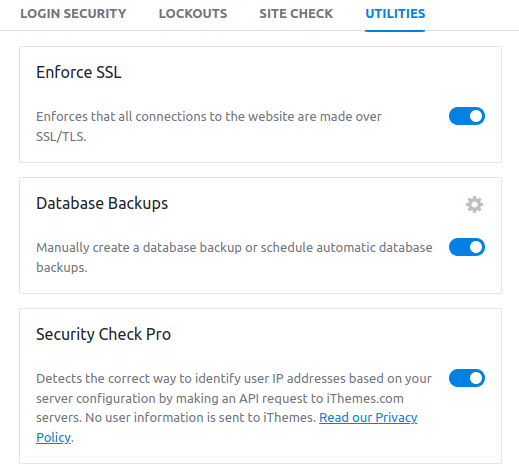 Database Backup is necessary when you use any security plugin. The plugin takes care of that situation; it allows automatic database backup with just one click. The plugin also helps you detect the correct way to identify User IP Addresses by making an API request to iTheme.com servers.
Advanced Security Tools
Advanced tools like, Identify Server IPs to prevent issues caused by accidentally locking out your Server IPs, Changing WordPress User ID, Changing Database Prefix, Check File Permission, and more.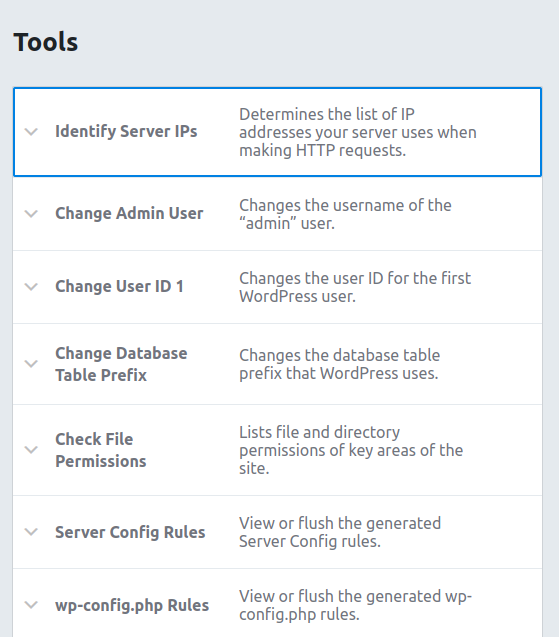 iTheme Premium Features
Advanced Login security
The pro version of the plugin allows you to use reCAPTCHA to stop bots from engaging in abusive activities on your site. You can also enable Passwordless Logins with 2FA for your users, so they don't need to remember WordPress login passwords.
Monitor Site Security Health
The pro version automatically applies a patch to vulnerable software that the Site Scan detects. It also keeps an eye on User Logs that record user activity in your WordPress security logs and Version Management to auto-update WordPress, plugins, and themes.
Improve Trusted Device
The plugin identifies the Right Device you and your WordPress users use to log in to your site. It can stop session attackers from doing any damage to your site.
Real-Time Website Security Dashboard
The pro version of the plugin gives you everything that monitors security-related events on your site. You can check user security stats, website scan results, active lockouts, brute force attacks, and much more.
Private Ticket Support
Pro users take advantage of one-to-one private ticket support. Their support team not just answers you but they solve it and share it. They help you set up and configure the process of the plugin.
4. Sucuri Security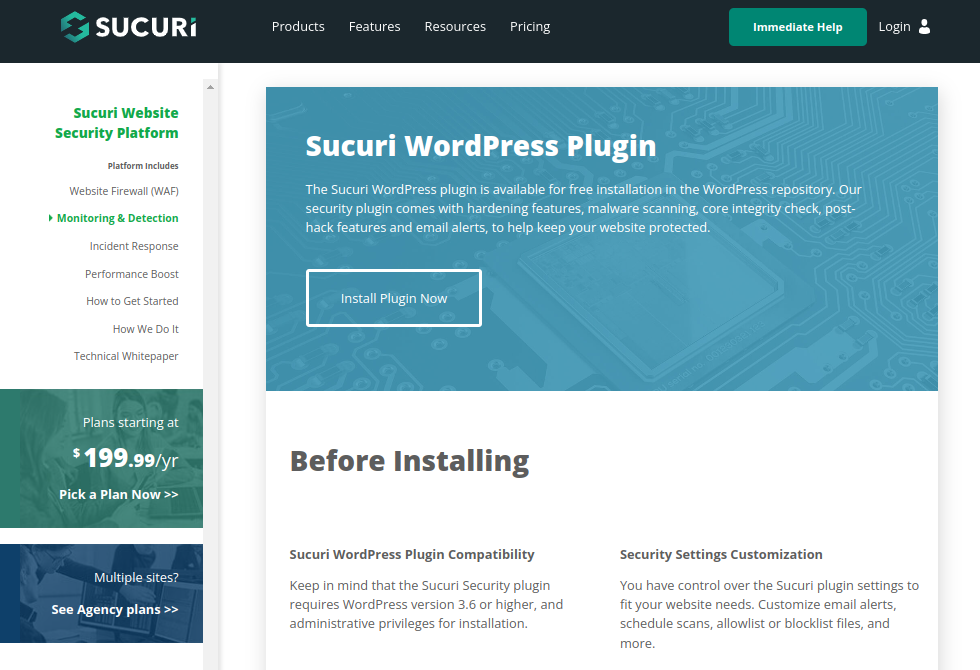 Sucuri Security is a free, reliable, straightforward plugin trusted by over 8000,000 users worldwide. The plugin comes with malware scanning, core integrity check, post hack features, email alerts, and more to keep your site safe and secure.
The plugin SiteCheck scan finds malicious code in your site's external source code and identifies core file integrity issues. The best thing about the plugin is that it offers a cloud-based WAF(Web Application Firewall), improving your site's speed and performance.
Sucuri Dashboard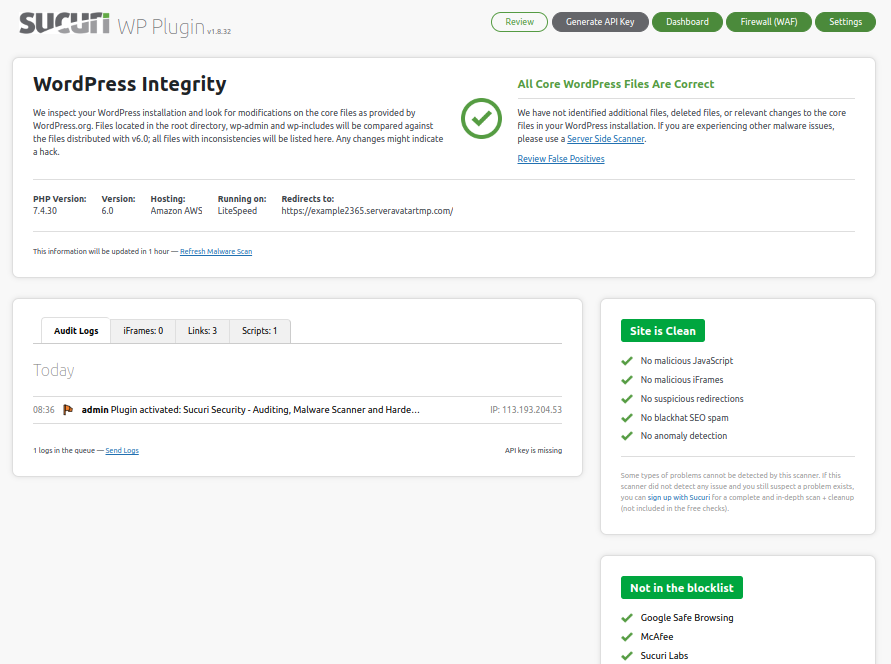 As you can see on the dashboard, WordPress Integrity provides information about your site's PHP Version, WordPress Version, and Hosting Provider. Along with that, the plugin will warn you if any changes happen on any core file of your site.
The plugin Malware Scanner scans your website for malware files that attackers might inject. And according to that, a warning message will appear on the dashboard, whether the Site is Clean or Not.
Other features you will see on the dashboard are Blacklist for keeping away the inappropriate users from the site and WordPress Security Recommendation to suggest the various methods to harden your WordPress architecture.
Sucuri Features
Email Alerts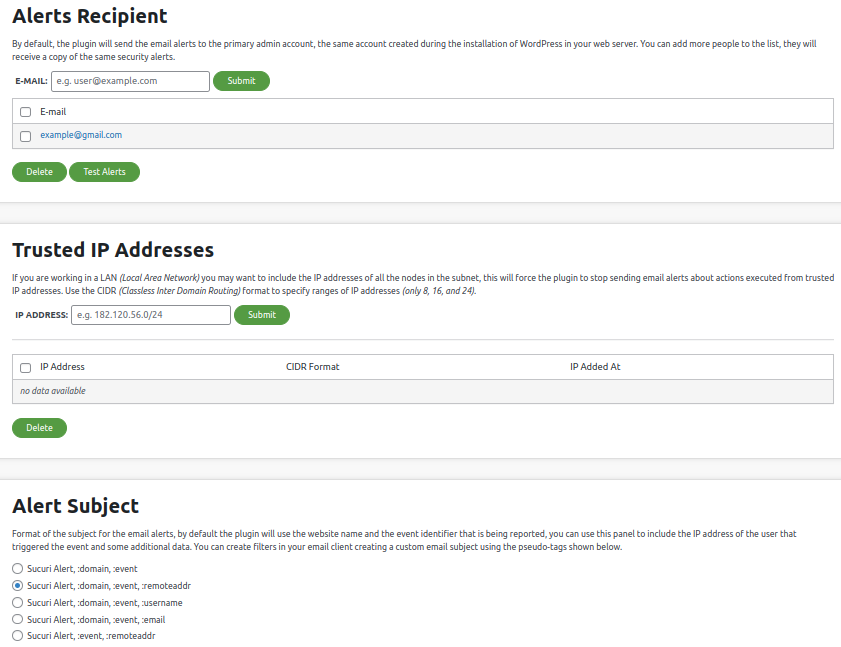 Email Alert features are by default enabled on your site. The plugin sends an email whenever any suspicious activity happens on the site. You can customize the email for any alerts generated by the plugin.
WordPress Hardening
The plugin provides multiple security hardening options for increasing security in areas of your website.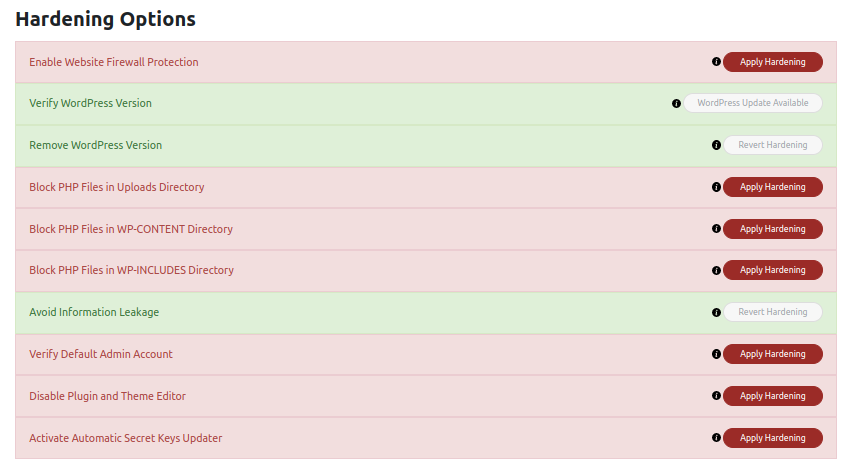 Technically, the plugin adds a set of rules to your website .htaccess file and verifies secure configurations.
Malware Scanning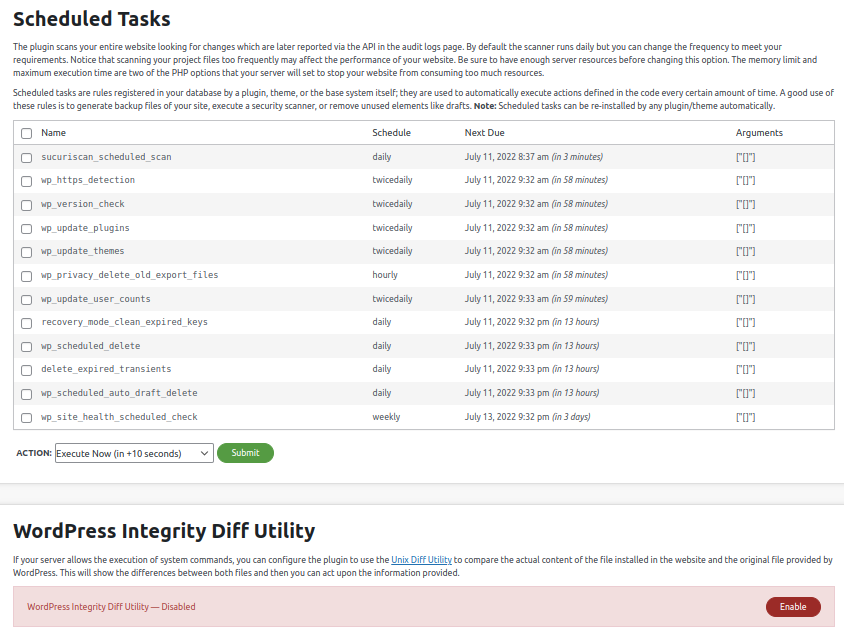 The plugin's fast and lightweight scanning engine is compatible with any environment. The scanner constantly updates you about malicious content, blocklisted status, website errors, and out-of-date plugins.
Core Integrity Check
The plugin comes with tools that check core WordPress files, PHP, CSS, JavaScript, and other files that come with the WordPress version.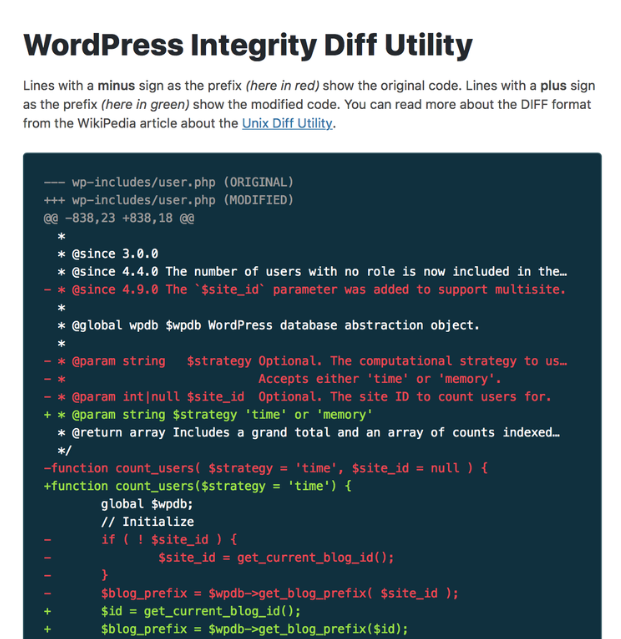 Post Hack
Post Hack feature measures when your site has been compromised(settle in a secure condition).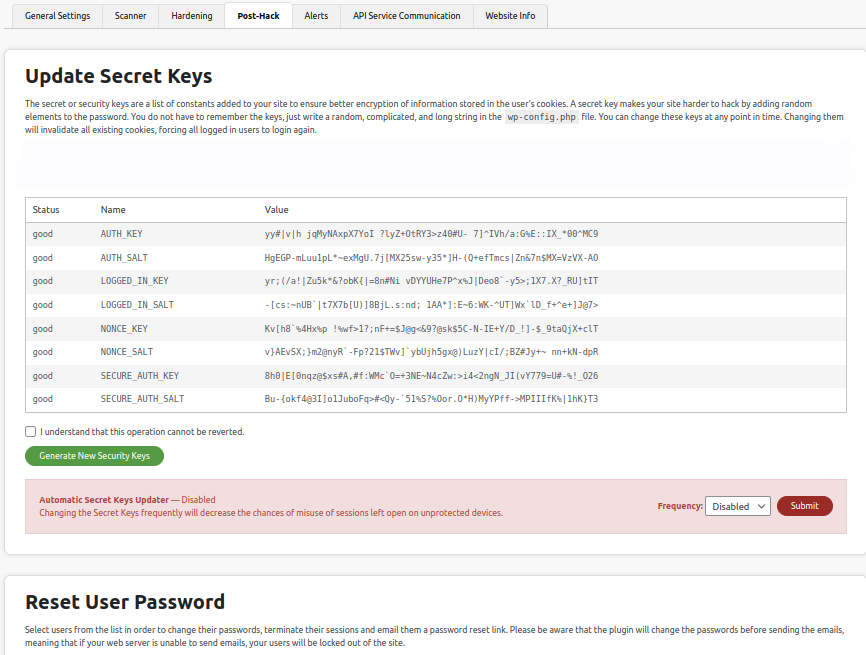 Click Here to know more about steps to take when your site has been compromised.
Sucuri Firewall Integration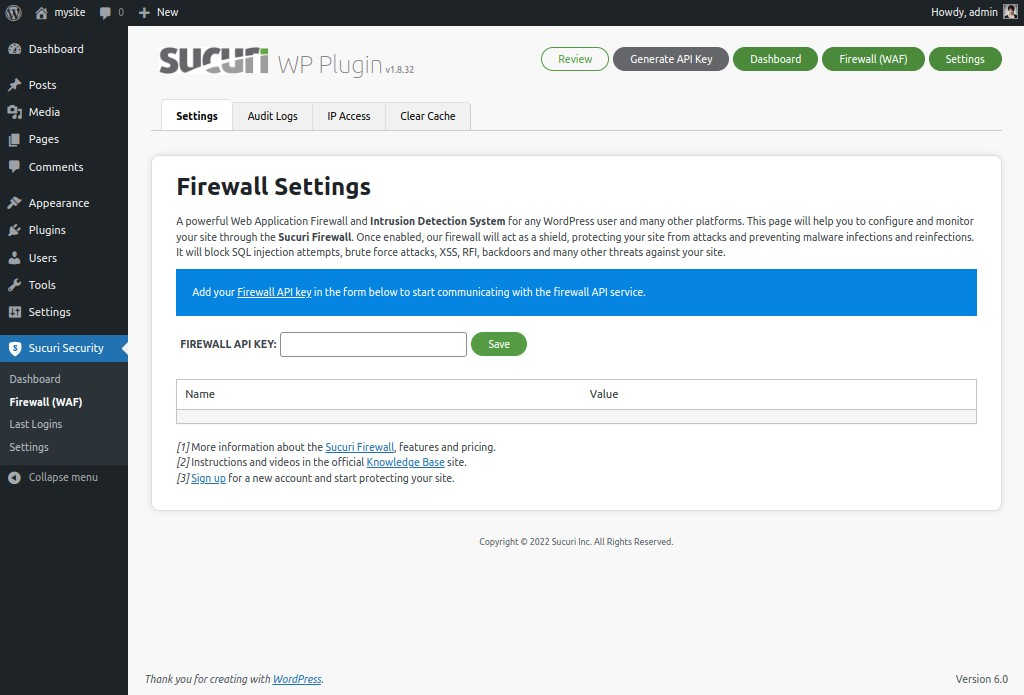 The Security Firewall feature is not included in the free version of the plugin. It's an enterprise-based solution for everyday site owners to protect against various website attacks like DOS/DDOS and Brute force attacks, SQL injection attacks, and more.
5. Defender Security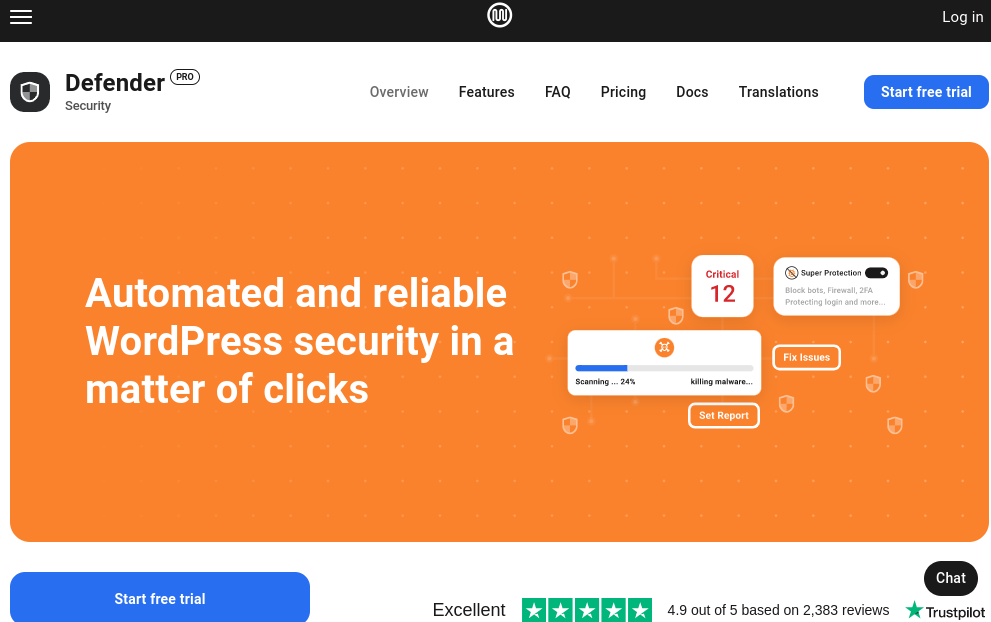 Defender is the one more plugin in a list that adds the best WordPress security to your website. It helps you set up basic plugin configuration with just a click. The plugin is famous for making web security easy for anyone, used by more than 900,00 freelancers, agencies, and site owners around the globe.
The plugin helps you compare your WordPress install with a master copy in the WordPress directory, reports all changes, and lets you restore the original file with just a click.
The best thing about the plugin is you don't require any security knowledge; it adds a layer of protection to your site with the required features.
Defender Dashboard
Defender plugin dashboard is the combined view of all the features with simple and easy-to-understand reports. You can monitor essential elements of site security from one dashboard.
The section you can see on the dashboard includes running Security Scan, managing your Blocklist/Firewall, enabling 2FA, action Hardening Recommendation, and much much more.
On the top right of the dashboard, the plugin provides a Documentation link that helps you understand every aspect of the plugin.
Defender free features
Security Recommendations
The plugin shows expected security improvements you can make to enhance a site's defense against hackers. Also, you can quickly take action on recommendations in bulk.
Two Factor Authentication
2FA makes your site secure incase if your password is hacked or guessed. It required a second factor to access the site. A password alone is useless for anyone who accesses the site. It requires approval at the second factor.
Firewall Protection
The firewall feature protects against hackers that attempt to gain entry to your site by bombarding you with ad hoc credentials.
This feature allows you to configure 404 Detection, IP Banning, User Agent Banning, and Log to improve site protection.
Notifications and Reports
Get essential security notifications with information that matters. Defender sends security recommendations, malware scanning, and firewall reports.
Configs
You can create your ideal defender security settings based upon security needs, and import/export saved config to other sites.
Advanced Tools
Advanced tools include Mask Login to hide login area, Security Header to protect the site against code injection, cross-site scripting, XSS, and more.
Other security tools that layer up your site are Pwned Passwords, Password Reset, and Google reCAPTCHA.
Defender Premium Features
Web Application Firewall(WAF)
WAF is your website's first layer of protection to block hackers' attacks before they reach your site. The plugin filters requests against a highly optimized managed ruleset covering common attacks.
Scheduled Scanning
Scanning at a regular interval of time makes you updated all the time. It also checks for known vulnerabilities and suspicious code on your site.
Audit Logging
This feature allows you to track and log every event when changes are made to your site. It shows a detailed report on what's going on behind the scenes.
Advanced Notification and Reports
You can schedule Defender to automatically email you a full report about Malware Scanning, Firewall, and Audit Logging reports.
Blocklist Monitor
This pro feature automatically checks if you are on Google's blocklist every six hours. If the plugin finds something wrong, it will let you know via email.